Heidi Webb
---
Posted on July 17th
---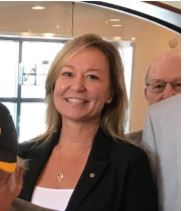 We will hear from Heidi Webb, new Assistant Governor for District 7620 for Montgomery County Rotary Clubs. Heidi helped install our new officers last month. She'll be back for a presentation. Here's an excerpt from Heidi's profile on LinkedIn:
My expertise in board development, strategic visioning, capital campaigns and major gift solicitation, as well as event planning and management and grant writing is coupled with an unwavering enthusiasm for what I do and what I know to be possible.
In addition to my work, I volunteer extensively. I am a Rotarian (former President of the Rockville Rotary Club), and have served on more than a dozen benefit committees for multi-million dollar fundraising events. I helped author and sign into law, a teen suicide prevention bill in 2005. I continue to advocate for this and other causes, because I strongly believe that we can all do our part to make the world a better place.
---