Service to the Community
North Bethesda Assists with Community Food Distribution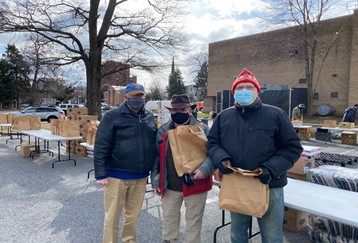 North Bethesda Rotarians are actively participating in the "Nourishing Bethesda" family food distribution effort organized by the St. John's Norwood Episcopal Church in Bethesda. The program feeds about 300 families per week, providing bags and boxes of food designed to feed four people for 5 days. In March and April 2021, our team continued to help move the food bags from St. John's Church to the distribution site at the B-CC Rescue Squad station on Old Georgetown Road. Pictured are team leader Dan Moore (red hat), Kevin Flynn (stylish fedora), and Rob Follit (Rotary ball cap) on a very cold Friday morning. Plans are to join the effort with a transportation team once a month.

Over the past 25 years, the Rotary Club of North Bethesda has recognized community needs and participated in numerous projects for the betterment of those residing in the community. Whether contributing financial resources to worthy civic organizations, inspiring young adults to pursue a college education, recognizing outstanding achievement in a chosen vocation, or assisting those in need, the club remains committed to making our community a better place in which to live. The following is a brief list of some of the club's projects during recent years
Montgomery College Scholarships. Since 1978, the club has funded the full tuition cost of over 50 first year Montgomery College students. These Rockville High School students, although hard working, were without sufficient funds to go to college. The club made their dream a reality. All students selected have been successful in college.
Vocational Awards. This awards program recognizes outstanding performances by Rockville High School students who have completed their high school vocational training program. The award is presented to five students who have exhibited exceptional skill development in their chosen vocation. The awards are presented by a member of our club during the school's awards ceremony.
Nursing Home Activities. In our early years, club members brought able residents of the Fernwood Nursing Home to our always cheerful meetings and some members provided day-long outings for residents. Over the past decade, the club has been working with the Circle Manor Nursing Home in a variety of ways. Club members conduct bingo, distribute gifts and video movies, and provide the always important one-on-one contact with residents. In past years the club provided music during the winter holidays, assisted residents in a walking tour of the Kensington area, and purchased a new wide-screen television set for residents.
Member Employee Service Awards. Each club member may nominate an outstanding employee to receive the vocational service award. The award is presented during a club breakfast meeting. This program is designed to recognize the importance of those persons who work with a member or the member's organization.