NBRC Business of the Year Award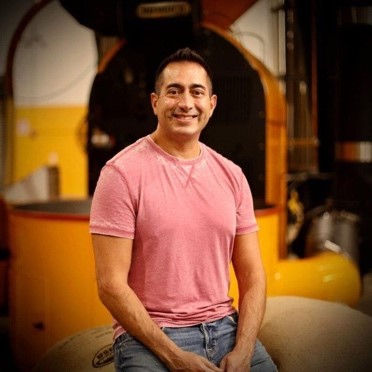 Mayorga Organics is our Business of the Year!
Mayorga Organics, based in Rockville, Md., embodies the spirit of Rotary. At Rotary we use the four-way test in our business dealings. We ask: Is it true? Is it fair to all concerned? Does it promote good will? Will it be beneficial to all concerned? Mayorga Organics grew =into an international company by telling the farmers and the customers the truth, about market forces, the process of production and how they maintain quality. They are dedicated to being fair to the farmers who produce our coffee and giving them a fair price for their labor.
Martin Mayorga (pictured at left) started roasting coffee in Rockville in 1997. The company has expanded and now operates a state-of-the-art roasting facility on Gude Drive. Mayorga Organics has promoted good will not only in their business model of non-exploitation but by many generous corporate acts including donating $145,000 to build homes in Nicaragua that was destroyed by floods and donating food and water to over 700 families in Honduras, Guatemala and Nicaragua when disaster struck. They are regular donors to local food banks in Montgomery County, and they donate time to help social enterprise groups in Tennessee that create jobs and provide mentorships in coffee roasting and the retail business. They have developed a scholarship program that awards 10 scholarships a year, each valued at $5000.
Mayorga has also donated prizes for our club's fundraising events. North Bethesda Rotary is awarding Mayorga the first North Bethesda Business of the Year Award for their mission and their success. We wish them continued growth and prosperity. Congratulations Mayorga Organics!

Wendi Harder is originally from Southern California and she moved to the east coast in 2008. Having grown up on a small family farm herself she understands the importance of crop diversification and environmental responsibility.
She joined the Mayorga Family because she fully believes in the company's purpose and vision. In her downtime you can find her in her vegetable garden or enjoying a Netflix binge with a cup of Costa Rica Perla Negra.
Martin Mayorga is dedicated to providing organic farmers and their families opportunity for development and true sustainability by engaging them with the U.S. market. He started the coffee business in 1997 in Rockville, and was a leader in Direct Trade. Mayorga Organics focuses on comprehensively supporting small organic coffee farmers and delivering quality and value to consumers. Their main focus now is supporting farmers with organic crops to create
long-term opportunities for them–and creating value for consumers.