Susan Soderberg – The Civil War in Montgemery County
---
Posted on May 15th
---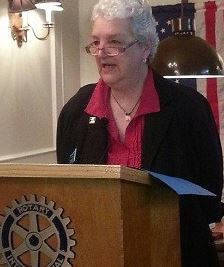 Susan Soderberg, spoke on THE CIVIL WAR (1861-65) IN MONTGOMERY COUNTY. The main road, 355, was not paved. The sentiment was Southern, conservative, and 2% voted for Lincoln. The county was rural with Southern sympathy, but had many Quakers that wanted peace.
In '61 people were fearful of slave up rise and secession. Though they voted not to secede, the Southern leaning delegates were arrested in Sept '61. DC slaves were freed Sept '61.
FEAR was a factor of life. Fear of Union troops. Quartering in homes…training camps. Property confiscated…slaves going to DC…Southern raids in '61, '62, '63, and '64. An equal number of men from Rockville were in the Union and Southern armies. North/South spying was extensive. Spies carried the mail and disrupted telegraph lines.
Susan Soderberg has other historical topics and we plan to get her back to speak.
---