Sheriff Maxwell C. Uy – Montgomery County's Sheriff's Office
---
Posted on September 15th
---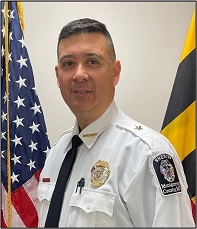 Sheriff Maxwell C. Uy was initially elected as Montgomery County's 62nd Sheriff on November 8, 2022. He officially began his term on December 1, 2022. Sheriff Uy is the first Asian-American to hold the Office of Montgomery County Sheriff.
Prior to his election, Sheriff Uy spent over two years as Chief Deputy, directing every aspect of the daily operations of the Sheriff's Office. During his law enforcement career, Sheriff Uy rose through the ranks, serving in nearly every section of the Sheriff's Office.
Sheriff Uy was raised in Fremont, California. Shortly after graduating high school, he enlisted as an active-duty member of the U.S. Army. He ultimately relocated to the East Coast as a member of the U.S. Army's Old Guard 3rd US Infantry Regiment, before joining the Montgomery County Sheriff's Office as a deputy in 1994.
The Sheriff's Office is the oldest law enforcement agency in Montgomery County, Maryland having been established in July of 1777. The Maryland Constitution provides that the Sheriff be elected every four years and the Office comes under the Judicial Branch of Government. The Sheriff is therefore a State Constitutional Officer who functions autonomously from the Legislative and Executive branches of government.
---