Rich Carson – Induction of Officers
---
Posted on July 7th
---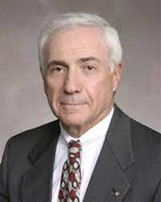 Rich Carson is a Past District Governor of Rotary District 7620 and has been active in a variety of District, national, and international projects for Rotary. He has served as Rotary representative to the Organization of American States, worked with the White House and Congress on Rotary Issues, and served as an advisor for Disaster Aid USA. Rich is an old friend of North Bethesda Rotary and had visited our club many times.
Rich will be handling the induction of North Bethesda Officers for the coming year: John Waterston as President, Kevin Flynn as President-Elect; Joe DiPietro as Treasurer, and Linda Berg-Cross as Secretary. Steve Vaccarezza will be transitioning to the Past President's slot. Steve has volunteered to also be Chair of a reconstituted Membership Committee with Ron Sigelman as committee member. Paul Arveson will continue as Club Administration Director for his long-serving role in managing our club's hybrid meeting arrangements and equipment.
If time permits, incoming President John Waterston will give a presentation on the results of a survey of members on the future they want to see for our club and propose next steps.
---