Nick Martinez – What's Going on in the Financial Markets?
---
Posted on October 14th
---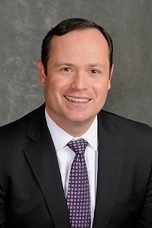 North Bethesda Rotary Club's own Nick Martinez, our recent past President, is a financial adviser in the Bethesda branch of Edward Jones. Nick will speak to us about the recent volatility in the world's financial markets and how to respond constructively to these developments.
Here's an excerpt from Nick's writeup on the Edward Jones website:
"As an Edward Jones financial advisor, I believe it's important to invest my time to understand what you're working toward before you invest your money. It's also important to understand the level of risk you're comfortable accepting when investing so we can balance it with the steps necessary to reach your long-term goals. Whether you're planning for retirement, saving for college for children or grandchildren, or just trying to protect the financial future of the ones you care for the most, we can work together to develop specific strategies to help you achieve your goals. We can also monitor your progress to help make sure you stay on track or determine if any adjustments need to be made. Throughout it all, we're dedicated to providing you top-notch client service."
---