Ms. Julie Verratti, SBA – The New Healthcare Law and Its Impact on Small Business
---
Posted on March 28th
---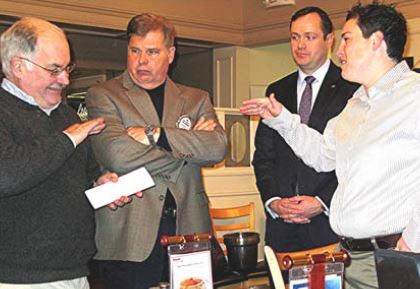 Last week's breakfast speaker was Ms. Julie Verratti, (left, with Kevin Flynn, Joe DiPietro & Nick Martinez), a deputy Associate Administrator of Field Operations at the U.S. Small Business Administration. One of their major operations during the next nine months is getting smaller businesses situated under the new Health Care Law, effective Jan. 1, 2014.
The magic number for the employer who must provide insurance is 50 fulltime employees. While some employers would like to provide insurance in any event, the choice of those with under 50 employees may lie ultimately with the cost of such a policy.
Julie Verratti pointed out that as of Jan. 1, 2014, many insurance market plans need to be launched and that ultimately the USA will have a National Health Plan like the one already in effect in Massachusetts.
---