Joe Kravitz – To Be Announced
---
Posted on April 14th
---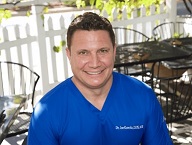 Dr. Joseph J. Kravitz is a prosthodontist in North Potomac, Maryland1. He provides advice on proper dental prosthetics, such as crowns and bridges. Dr. Kravitz is one of the nation's top dental experts featured on Discovery, ABC, NBC, and Fox. He is credited with innovating a procedure to surgically place dental implants in just 3 minutes.
Dr. Kravitz's credentials include a Doctorate of Dental Surgery and a specialty certificate in Prosthodontics from the University of Maryland Dental School, a Master of Science in Oral Biology from the University of Maryland Graduate School, and a Fellowship in Implant Dentistry from NYU College of Dentistry.
Joe is a former member of our club and served as Vocational Services Chair.
---