Jessica Foley – Curing with Sound
---
Posted on March 10th
---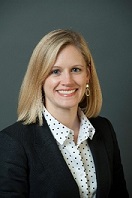 Jessica Foley, PhD is Managing Director and Chief Scientific Officer for the Focused Ultrasound Foundation, whose mission is to accelerate the development and adoption of focused ultrasound, a breakthrough noninvasive therapeutic medical technology.
Dr. Foley guides strategy, development, and implementation of scientific and research programs for the Foundation, and aligns these with business operations, communications, and development activities. She leads alliance-building efforts with external stakeholders including governmental policymakers, regulatory agencies, and disease-specific foundations whose interests are complementary to those of the Foundation.
She is a spokesperson and advocate for the Foundation and the focused ultrasound community among a wide variety of stakeholders. Prior to the Foundation she spent several years in the medical device industry (Insightec, Medtronic) and was a AAAS Science and Technology Policy Fellow at the National Science Foundation. She holds a BSE in Biomedical Engineering from Duke University and a PhD in Bioengineering from the University of Washington.
---