James Brunger, Regional Vice President – Donating the right asset at the right time to the charities
---
Posted on November 15th
---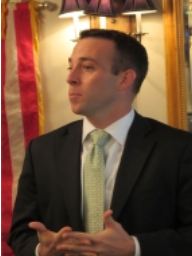 Last week's breakfast speaker was James Brunger, a Chartered Financial Advisor in Philanthropic Giving with the New York Life Insurance Company.
James pointed out that Americans remain the most generous nation. During our 2008 Financial Crisis, we gave to charities more than $3 billion, and his assessment of why we do this is in the following order:
[list style="arrow"]
Giving to an institution that is meaningful to the donor;
Leaving a person a legacy of giving;
Vanity—Giving sufficiently so as to have one's name in a hospital museum;
Tax benefits.
[/list]
We do our "gifting" in three ways:
Cash,
Appreciated stocks, and
Legal legacy (in a will).
Of these three, donating appreciated stocks is by far the least disruptive to personal financial portfolios. All of which raises the question "Which one will you use when gifting the Rotary Foundation?"
---