Dr. George Stosur – The Cold War Over the Arctic
---
Posted on May 19th
---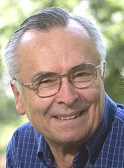 Global warming and ice melting opened new and shorter routes for commercial shipping of cargo through the Arctic Ocean. U.S., Russia and China compete for influence to control the Eastern Passage with very important economic, environmental, and military consequences.
Dr. Stosur is a geoscientist, recently retired from the U.S. Government Service, having directed research related to global energy resources and recovery. He is now part time teacher and invited speaker/panelist on world energy issues, maritime sciences, oceanography, history of deep-sea exploration. He served as dean of Keese School for Continuing Education in Washington, D.C., and currently serves as guest speaker for cruise ships.
George was thrice-appointed Distinguished Lecturer by an international engineering society. Altogether, he delivered nearly 350 lectures on all continents, save Antarctica. His carrier spanned two major oil companies and the U.S. Government service in science research and administration. He holds two MS degrees and a PhD.
---