Dr.Eberechukwu Onukwugha – Health Disparities in Cancer Treatments
---
Posted on October 1st
---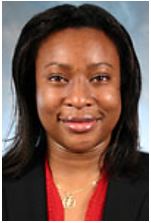 Dr. Onukwugha is an Associate Professor in the Department of Pharmaceutical Health Services Research at the University of Maryland School of Pharmacy. She is also the Executive Director of the Pharmaceutical Research Computing Center at the University of Maryland School of Pharmacy.
Since 2019, Dr. Onukwugha has served on the Maryland Prescription Drug Affordability Board, a first-in-the-nation effort to lower the cost of prescription drugs for Maryland residents. The board – an independent body comprised of doctors, public health experts and medical researchers – will investigate expensive prescription drugs and make recommendations to lower costs, including by setting price caps.
For nearly two decades, Dr. Onukwugha has conducted cutting-edge pharmaceutical health services research to address health disparities, examine medical decision making and analyze ways to reduce costs across America's health care system," said Congressman Sarbanes. "Every single day, she's on the front lines working to help improve treatment decision making, lower health care costs, reduce prescription drug prices and enhance health outcomes for Americans in every community.
---