Donald L.. Mooers, Jr. – "A little girl with a big heart: How a group of war victims aided by Rotary helped end a horrible war"
---
Posted on March 7th
---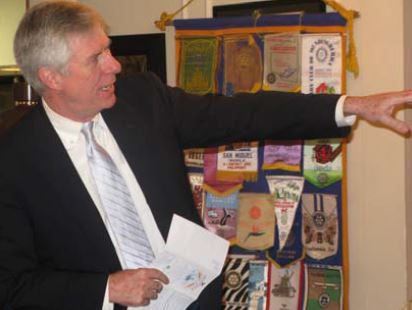 Donald Mooers is a highly regarded Bethesda attorney whose law practice is dedicated exclusively to Immigration and Nationality Law. While in college, he joined the Peace Corps, which led to his still current dedication to improving the status of residents in Sierra Leone in Africa, He also has had a very happy family life.
Don (in his talk) said that every person's maxim should be "Do What You Can-Where You Are—and to the Best of Your Ability." He then guided us through one of the greatest success stories he knew—his own! He was able to find work outside his home at age ten—is a graduate of Churchill High School in Montgomery County, Duke University and GWU Law school, and has a formidable volunteer schedule.
During his senior year at Duke, Don entered the Peace Corps and soon became dedicated to rescuing young people from the dire conditions in Sierra Leone. He helped many of them to move to America where they are getting along superbly. Sierra Leone is a small country on the ocean side of Africa, Civil war raged there in the 1990's and ordinary punishment was cutting off an arm or foot of protesters. Today, restored, and average life expectancy is up to 56 for males, and 59 for males.
[list style="idea"]
---