David O. Stewart, The Babe Ruth Deception
---
Posted on January 20th
---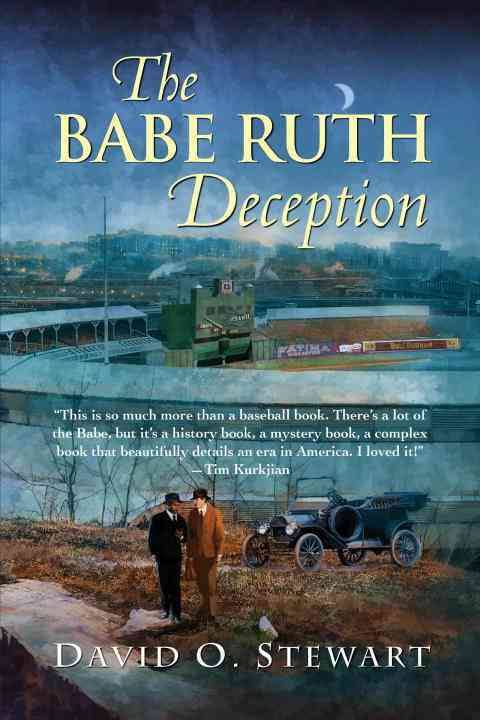 David O. Stewart's first book, The Summer of 1787: The Men Who Invented the Constitution, was a Washington Post bestseller and won the Washington Writing Award as Best Book of 2007. Impeached: The Trial of President Andrew Johnson and the Fight for Lincoln's Legacy, was called "the best account of this troubled episode." American Emperor: Aaron Burr's Challenge to Jefferson's America, examines Burr's Western expedition, which landed him on trial for treason. The Washington Post called Madison's Gift: Five Partnerships That Built America, a portrait "rich in empathy and understanding" by "an acknowledged master of narrative history." David also writes fiction. Bloomberg View said The Lincoln Deception, about the John Wilkes Booth Conspiracy, was the best historical novel of 2013. The Washington Post described The Wilson Deception, set at the Paris Peace Conference in 1919, as ""Another terrific Fraser and Cook mystery." In its review of The Babe Ruth Deception in 2016, the Washington Times described David as "one of our best new writers of historical mysteries." He is president of the Washington Independent Review of Books.
Synopsis of The Babe Ruth Deception
As the Roaring Twenties get under way, corruption seems everywhere– from the bootleggers flouting Prohibition to the cherished heroes of the American Pastime now tarnished by scandal. Swept up in the maelstrom are Dr. Jamie Fraser and Speed Cook…
Babe Ruth, the Sultan of Swat, is having a record-breaking season in his first year as a New York Yankee. In 1920, he will hit more home runs than any other team in the American League. Larger than life on the ball field and off, Ruth is about to discover what the Chicago White Sox players accused of throwing the 1919 World Series are learning–baseball heroes are not invulnerable to scandal. With suspicion in the air, Ruth's 1918 World Series win for the Boston Red Sox is now being questioned. Under scrutiny by the new baseball commissioner and enmeshed with gambling kingpin Arnold Rothstein, Ruth turns for help to Speed Cook–a former professional ballplayer himself before the game was segregated and now a promoter of Negro baseball–who's familiar with the dirty underside of the sport.
Cook in turn enlists the help of Dr. Jamie Fraser, whose wife Eliza is coproducing a silent film starring the Yankee outfielder. Restraint does not come easily to the reckless Ruth, but the Frasers try to keep him in line while Cook digs around.
As all this plays out, Cook's son Joshua and Fraser's daughter Violet are brought together by a shocking tragedy. But an interracial relationship in 1920 feels as dangerous as a public scandal–even more so because Joshua
is heavily involved in bootlegging. Trying to protect Ruth and their own children, Fraser and Cook find themselves playing a dangerous game.
Once again masterfully blending fact and fiction, David O. Stewart delivers a nail-biting historical mystery that captures an era unlike any America has seen before or since in all its moral complexity and dizzying excitement.
---