Bob Sonawane: The Global Problem of E-Waste Pollution and Human Health Impact
---
Posted on March 19th
---
In his talk, Bob will discuss electronic waste (E-waste), which includes various forms of waste electric and electronic equipment (WEEE) that have ceased to function properly to their owners. Technological advances are generating a considerable volume of E-waste at an alarming rate as the demand for electronic products is on the rise at the global level. Most of the households in developed and developing countries are rapidly acquiring multiple electronic products and home appliances. Consumers around the world are connecting at a rapid rate to the information and communication technology devices such as computers, smartphones, and tablets. In addition, more people using equipment and gadgets and are now adapting to the smart economy. These products include but are not limited to electric toothbrushes, smartwatches, smart water bottles, smart mugs, electrical and electronic tools, toys, leisure and sports equipment, medical devices, monitoring and control instruments, and automatic dispensers.
E-waste is also one of the emerging and fastest-growing pollution problems in the world, with an estimated over 53 million metric tons produced globally in 2019 and the value of raw materials to be worth of approximately $57 billion. E-waste is mostly exported from Western countries to low-income Asian and African countries. Developing countries face a serious problem in managing E-waste. In majority of these countries, the collected E-waste includes both domestically generated and imported from developed countries.
Electronic waste is recycled to recover raw materials and resalable parts that can be sold to create income. In addition to valuable materials such as gold, silver, platinum, palladium, and rare earth elements, E-waste contains many types of hazardous chemicals that are released during the recycling process and are known to be harmful to human health and ecological habitats. Both, domestically generated E-waste, and the imported from developed countries is processed using crude and unsafe recycling practices such as open burning, coal-fired grill heating, and leaching using acid baths to extract high-value elements and materials.
Bob will briefly discuss the scope of the problem, current global E-waste generation, its movement and distribution, recycling practices, exposure scenarios, and major human health and environmental effects, special populations at risk, including risk assessment challenges.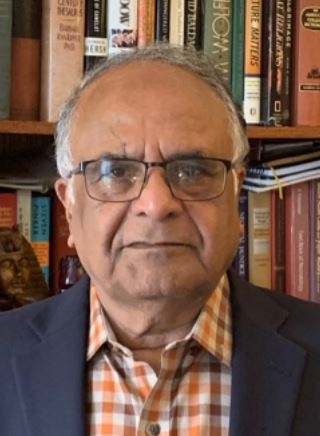 Dr. Sonawane, currently our club's Membership Director, received his Ph.D. degree in Entomology with specialization in Toxicology from the University of Missouri. He was a NIH postdoctoral Fellow and served as a faculty member in the Departments of Pediatrics at the Children's Hospital of Philadelphia, the School of Medicine, and at the School of Veterinary Medicine of the University of Pennsylvania, Philadelphia, PA. Dr. Sonawane worked as a Toxicologist with the U.S. Food and Drug Administration in Rockville, MD. He served as a toxicologist and manager at the National Center for Environmental Assessment (NCEA), Office of Research and Development of the U. S. Environmental Protection Agency. Dr. Sonawane has over 35 plus years research and management experience in toxicology and pharmacology and cancer/non-cancer health risk assessment of environmental pollutants. He is an author and/or co-author of over 120 publications and several book chapters in toxicology and pharmacology, children's environmental health and risk assessment of environmental chemicals. Dr. Sonawane was involved in providing leadership in coordinating and managing several health risk assessments of chemicals. He is retired from the US EPA in 2016 and started consulting company along with Dr. Bruce Fowler in the areas of toxicology and health risk assessment, environmental chemicals and pharmaceuticals. Since 2017, he is an Adjunct Professor at the Georgetown University in Washington DC.
---