Bill Lewers – Eighteen Days In New York: The History of the 1924 Democratic Convention
---
Posted on July 22nd
---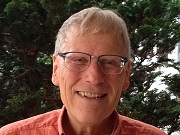 Bill Lewers was raised on Long Island in the 1950s and has been a political junkie for as long as he can remember. He holds B.A. degrees from Rutgers (mathematics) and the University of Maryland (history) and a M.A.T. degree from Harvard (mathematics education). After teaching high school mathematics for a few years, he commenced a career as a computer professional with IBM. He lives in McLean, Virginia with his wife, Mary.
Bill is a lifelong fan of the Boston Red Sox and this passion is reflected in his first book, Six Decades of Baseball: A Personal Narrative. This was followed by A Voter's Journey which is one citizen's sixty-year romp through the American political system.
Bill began serving as a Fairfax County election officer in 1994. Two decades later he wrote The Gatekeepers of Democracy, which was dedicated to the women and men who volunteer to serve on Election Day. The Gatekeepers of Democracy has been described as the novel that refined the genre of "election officer fiction." Reaction to Gatekeepers was sufficiently positive that Bill decided to turn what was originally a stand-alone novel into a series. November Third (Book Two) examines things through the eyes of the "rovers," seasonal employees who support the election process in a variety of ways. Things take a more sinister tone in Book Three (Primary Peril) as "murder most foul" casts its dark shadow over the election landscape. Eighteen Days in New York: A Novel about the 1924 Democratic Convention is Bill's first venture into the world of historical fiction.
---