Ambaree Majumder – Revitalizing the Oceans (Zoom)
---
Posted on February 18th
---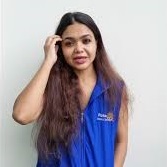 Ambaree Majumder is a second-generation Rotarian. Her father has been a long- term Rotarian and a past president in the state of Sabah in Malaysia. She is a member of the Marina City Rotary club in Singapore. She is also the co-chair of the Plant-Rich Diet taskforce in the Rotary Action Group for Environmental Sustainability (ESRAG), co-leader of the Southeast Asian chapter of ESRAG and the Regional Chair for Environmental Protection in Singapore.
Although she is an IT Business Analyst by qualification, she has spent most of her time in the past 7 years as a Social Entrepreneur, Speaker and Educator in the field of Plant based Lifestyle. Her journey of a plant-based lifestyle began in 2006 when she took an ethical stand to stop eating meat and fish. However, in 2016, when she completely went plant based by removing dairy and eggs from her diet, she experienced immense health benefits. She was able to reverse many chronic health issues like joint aches, a weak immunity, many digestive issues and also hypothyroidism.
Being passionate about health and environment, she soon realized that the diet which was the healthiest was also the most planet friendly. She undertook certification courses like Plant based Nutrition and Food Sustainability from e-Cornell, the online version of Cornell University. She has spoken at various Rotary clubs around the world, corporate platforms, schools and universities about how our plates and the planet are more interconnected than it might seem. She presents scientific data to show that every meal is an opportunity for us to fight a climate catastrophe knocking at humanity's doorstep.
---