The 2002 Group Study Exchange Team to District 1080 in East Anglia, England.
---
Posted on June 19th
---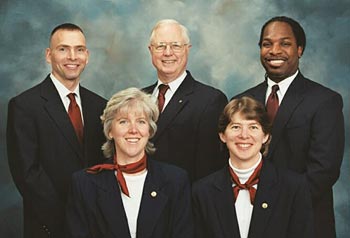 The members, from left, front row are: Carole Molloy, Coach/ Lecturer, Westminster, MD (sponsored by Westminster Rotary Club) and Jenny Plummer-Welker, Land Use Planner, Calvert County, MD (sponsored by Rotary Club of Prince Frederick). From left, second row: Martin Lippy, Police Sergeant, Baltimore County, MD (sponsored by Towson Rotary Club), Team Leader Barry Thompson, Physician/ Geneticist, Rotary Club of North Bethesda, MD, and C.D. Glin, Diversity Recruitment Specialist, Washington, DC (sponsored by the Rotary Club of Washington.)
The group was in England in April and May, spending a week each in Cambridge, East Dereham, Norwich, Sudbury and Lavenham visiting historical sites, learning about the local culture and enjoying vocational exchanges.
PolioPlus Program. Our members made generous contributions to Rotary's campaign to eradicate polio (and certain other diseases) from the world by 2005. The "PolioPlus" program brought together all Rotary clubs throughout the world for a common purpose: to provide oral polio vaccine to children of all nations. PolioPlus has reached millions of children. More than 200 million children in Southeast Asia received oral polio vaccine during December 1998 and January 1999. Although donations by members were personal, it is estimated that our club contributed over $50,000 to the PolioPlus program.
Ambassadors of Goodwill. Rotary encourages the one-on-one relationship between foreign students and professionals and their counterparts in this country. This is accomplished through Rotary's Ambassadorial Scholarship and Group Study Exchange programs. Our club members have actively participated in meeting and greeting these international visitors. Some members have provided housing for visitors during their brief stay in our area. Other members have arranged tours of their businesses to better acquaint our foreign visitors with how we do it in the United States. This also includes meeting with local legislators and learning about how our laws are made.
Rotary International Convention. The annual RI convention is held in various cities throughout the world. The conventions typically draw over 25,000 Rotarians. Our club's president-elect attends this five-day event and provides a report to club members at a breakfast meeting. Convention speakers are excellent, RI committee meetings are informative, and the impact of Rotary worldwide is inspiring. It is an exciting and rewarding educational experience on the workings of Rotary and RI's many and varied humanitarian projects. All those who have attended an RI convention return home with new ideas and a renewed enthusiasm for Rotary and local community projects.
---